The Forex Simulator is a new original Windows software designed to practice Forex trading, both online on live data and offline on historical market data (i.e. back testing).
With the free Online Simulator, you can practice live during an active Forex trading session. Real-time dealable interbank prices are available for 10 main currency pairs – you don't need to set up any account.  Just download the Simulator and start practicing the moment the software is installed – free!
GET ONLINE FOREX SIMULATOR. START LIVE PRACTICE IN 5 MIN – FREE!
The Simulator also supports offline (or back testing) mode. The Forex market modelling offline is 100% accurate, because the Simulator only works on tick-by-tick market data and never uses interpolation. In addition, the Simulator renders the ticks strictly according to their oiginal timestamps, with up to 1 ms accuracy. Trading server delays can also be simulated.
The offline Forex simulator is especially useful if you have a day job, because then you have limited time to practice during workdays. And if and when you have some time to spare, there might not be enough market action. With the Simulator, you can practice any time – even on weekends, when the Forex market is closed. In addition, you can practice anywhere – even without Internet connection.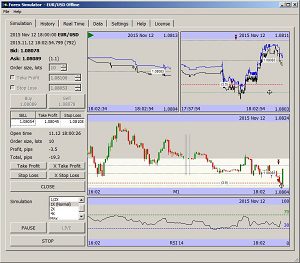 You can always find market action in offline simulation. Test data for offline simulation is free. High quality historical tick-by-tick market data is available for 15 main pairs since 2009.
In addition, the Forex Simulator helps you efficently manage and save your time. Using Pause/Resume option, you can forget interruptions in your practice. Fast Forward option makes it possible to skip the periods of "dead" market and only concentrate on interesting market action. With Slow Motion option you can practice turbulent markets, e.g. during major news releases
With Timeshift, all the above time management features are available in the online simulation, as well!
GET ONLINE FOREX SIMULATOR. START LIVE PRACTICE IN 5 MIN – FREE!