Quality of the test data is of primary importance in Forex testing. One good way to get a good data is to store quotes from your Metatrader trading account.
Our Forex Data Recorder that can do that – in real time. The tool is free!
It is a small Windows application with the GUI, as shown below.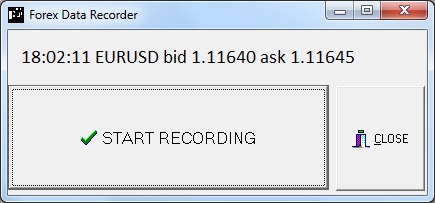 When started it needs a special Expert Advisor to be started in Metatrader. Once both are running, the Forex Data Recorder starts showing the ticks that comes in Metatrader.
Clicking on the button, you can start recording all ticks in the file.
Later on, this file you can use for the strategy backtesting. E.g. the Smart Forex Tester can read this data without need for any editing.
Download the Forex Data Recorder (FREE!).